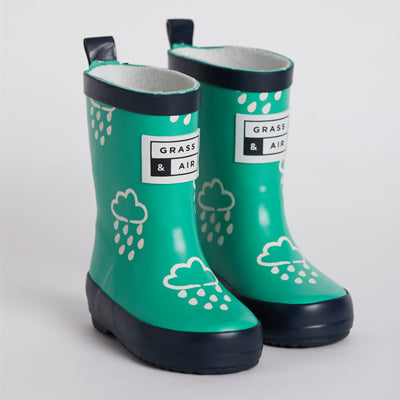 Grass & Air
Colour-Revealing Wellies - Green
$24.97 $24.97
The raincloud design changes to a multicolour when they get wet in the rain.
The Grass & Air Mini Adventure Boots with Bag in Navy have a clever pattern design. Watch the raindrops change colour as they get wet to reveal a fun multicoloured print.

Featuring a fleece lining, the children's wellies will also keep their toes warm and toasty on long autumn and winter walks.

The easy-to-dry removable insoles not only make light work of cleaning and drying them for parents, but they also make it super easy for kids to tell their left and right with an illustration that joins up to make a full picture.

Wellies come with a free drawstring bag so you can easily transport them to exciting new places.

Brushed fleece lining for warmth

Easy-to-dry removable insoles

Insoles help with left and right

Colour-revealing print

Free drawstring bag